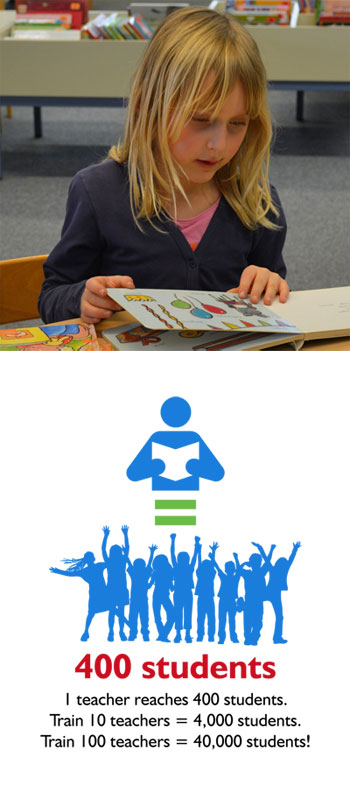 Every contribution counts! Every hour is precious and every dollar directly impacts public school readers through teacher training and enrichment.
100% of your donation goes to teacher training, thanks to CertaPro Painters of Atlanta. CertaPro covers our operating costs so all donations go directly to public school teacher training and enrichment in the foundations of reading instruction.
Be part of the team and give what you can. There are many ways to help make a difference! Give what you can. Whether it's money, resources, time, or a fundraising idea, we'll put it to good use.
---
Make a Donation
Your gift will directly and positively impact public school readers through the teachers that work with them every day.

Click the button to visit our donation page at Network For Good.
You can donate via credit/debit card or via PayPal.
Or donate by check:
Reading is Essential for All People Inc.
P.O. Box 3955
Decatur, GA  30031
The Internal Revenue Service recognizes Reading is Essential for All People Inc. (EIN 46-2262007) as a Section 501(c)(3) non-profit charitable organization.
---
AmazonSmile
You can train teachers every time you buy a book, sent a gift to a friend or order household items. Shop at AmazonSmile and Amazon will make a donation to Reading is Essential for All People. Get details here
---
Giving Assistant
Giving Assistant makes it easy to donate to REAP. Simply shop online, earn cash back, and donate as much as 30% of your purchase price. You can help change the world for free while saving money at over 1,800 online retailers such as Lowes, Best Buy, and Target.
---
Kroger Community Rewards
Support REAP with every trip to the grocery store. Sign up here to have Reading is Essential for All People receive a donation every time you shop at Kroger. Remember, Kroger requires you to renew your charity choice each August. Be sure to login and make sure your Rewards account is up to date.
---
Make it a match
Does your company match your charitable contributions? Make sure to let them know you support REAP: Reading is Essential for All People.
---
Volunteer
Do you have some free time to dedicate to reading proficiency? REAP is always looking for dedicated volunteers to support administrative duties, marketing, outreach and fundraising. Let us know how you would like to help.
---
Start a fundraiser
Whether it is through a community-wide effort, a small lunch or happy hour at your home or an online fundraiser, you can work with your friends and family to support the educators and students in your area. Contact us for ideas and more information.
---
Get social
Follow us on facebook and twitter. Sign up for our email list to receive information on upcoming events, news, and REAP related items.
How can you help?