There's a reading crisis in education. Students are leaving school—some even graduating—without learning to read proficiently.
Reading proficiency is required to read and comprehend:
Insurance benefits
Professional exams
Tax forms
Safety manuals
College textbooks
Credit card contracts
Loan applications
Why is reading proficiency so important?

Students who don't read proficiently will face many challenges in life…maybe dropping out of high school or college, struggling to find or keep a job, or even going to jail.
---
Early reading instruction is critical.
It's crucial for a child's educational development that he or she become a proficient reader by the end of third grade.
Why? Beginning in fourth grade, children must read to learn other subjects.
An estimated 15-20% of students struggle with reading, which impacts their ability to succeed in math, history, science and language, making it difficult to keep up with the demands of high school and college.
Kids who can't read proficiently by 3rd grade are 4 times more likely to drop out of high school.
---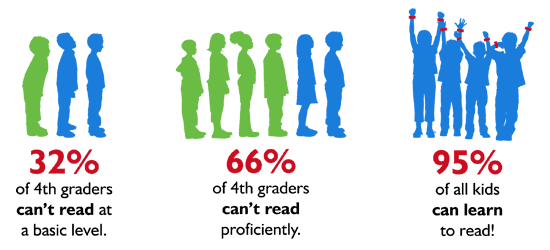 Why do kids struggle with reading?
There are many reasons kids struggle to read:
Some kids have learning disabilities such as dyslexia, or they have challenges with focus or attention.
Others are learning English as a second language.
Some kids begin school with only a limited exposure to books and language.
The good news is that most of these kids can become successful readers with the right kind of instruction.
---
What's the Solution?
Let's teach the teachers to reach the readers.
It's hard to believe, but most teachers leave college without the tools they need to effectively teach reading. These skills are rarely included in school-level professional development.
"I never knew that I didn't know how to teach reading. I am amazed. I cannot put into words how much this has helped me as an educator and as a person."
REAP provides public school teachers with training in the foundations of reading instruction. Teachers learn scientifically proven, evidence-based approaches that improve reading proficiency in all children and are especially critical for struggling readers.
REAP's training is based on the Orton-Gillingham (OG) Approach developed over 70 years ago. OG is a multi-sensory, systematic and direct approach to phonics instruction.
Not only do these strategies help struggling readers to succeed, but they push strong readers to be even stronger. It's a win-win.
"I wish I could go back and apologize to the struggling readers I taught in the first 12 years of my teaching career…I now know ways to help them and I know they will be successful!"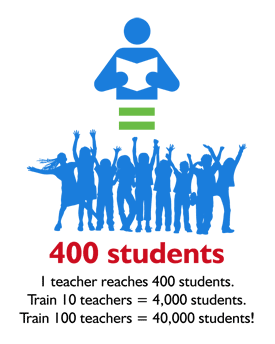 The more teachers we train, the more kids we help!
REAP is dedicated to making this training available to as many public school teachers as possible. The teachers want it and the students need it. Click here to hear why hundreds of teachers are applying for REAP's training program.
Did you know?
One teacher reaches 400 students over a typical career. To date REAP has trained 615 teachers in Metro Atlanta and impacted the lives of 27,425 Georgia public school students. Help us double that number!

---
How can you help?

You can make an immediate impact. To provide free training and professional development, we need money. And we need volunteers. We can't do it without you, so please check out the details: How can you help?
You can also help by sharing this knowledge. Let teachers and administrators know about REAP. Tell your friends and family to support REAP and volunteer with our organization to help us make a difference!
Reading Crisis