REAP Professional Training and Development
REAP is a non-profit organization whose mission is to improve reading proficiency in public school students. Public school teachers are the most valuable resource to help us accomplish our mission, so we provide them with high-quality Orton-Gillingham training. All of REAP's course offerings are specifically designed for the public school teacher. Our programs are limited by instructor availability and by our ability to fund the programs, so the application process is competitive.
About Orton-Gillingham
Multi-sensory, Systematic, Direct Phonics Instruction
We provide Orton-Gillingham (OG) training to public school teachers. This intensive training method is scientifically proven to improve reading success in all readers—especially those who struggle. The OG approach includes essential curricular content and instructional practices drawn from a body of time-tested knowledge and practice that has been validated over the past 70 years. The OG approach is founded on scientifically based evidence about three core issues:
How humans learn to read and write;
Why a significant number have difficulty in doing so;
Which instructional practices are best suited for teaching such persons to read and write.
---
Orton-Gillingham Coursework
The OG program advances the understanding of specific procedures of the Approach and the underlying principles in teaching reading, spelling, and vocabulary. Teachers learn how to teach struggling readers to unlock the code of reading and spelling.
Our offerings include both the OG Educator and Associate Level Courses geared toward the public school teacher.
Course Content includes:
Characteristics of Dyslexia related to typical development of reading and writing
The principles of the Orton-Gillingham Approach
General history and structure of the English language
Phonological awareness
Sound/symbol relationships for reading and spelling
Six syllable types and seven ways to divide words into syllables
Anglo-Saxon, Latin and Greek word parts
Spelling rules and generalizations
"Learned" or non-phonetic words
Advanced decoding skills
Scope/sequence and lesson planning
Strategies for reading comprehension and written expression
Teaching strategies and development of teaching materials
Includes follow up in school professional development- Hands-on workshops, modeling, observations with feedback, and coaching.
---

Training for Individual Teachers
Summer/Evening OG Training
This program takes place over 7 days in the summer or 12 evenings during the school year. It includes 35 hours of OG coursework, plus modeling and follow-up coaching at your school. Applications are due by March 1.
Read more about the Summer/Evening OG Training
Summer Camp/Advanced Training
This advanced training is for teachers who have completed at least 30 hours of OG training. Teachers will work with Literacy Leaders to observe and teach struggling students who get 1 week of intensive specialized instruction at our Summer Reading Camp. Applications are due by March 1.
Read more about Summer Camp/Advanced Training
---
School-Based Training
The 8-Day OG Training, Workshop & Modeling Program

This 8-day program is very popular with schools/systems looking to train 20 to 30 teachers at one time. The program includes:
Classroom Educator Orton-Gillingham training (30-35 hours)
"Connecting the Learning" Workshops (12 hours)
Modeling by literacy leaders to demonstrate large-group teaching
Observations with feedback and coaching can be added to this program.
Read more about the 8-Day OG Training Program
---
Workshops
These hands-on workshops connect the coursework to the classroom. Teachers who have completed at least 30 hours of training are eligible for the workshop.
"Connecting the Learning" from OG coursework to the public school classroom.
This one-day workshop teaches you how to integrate what you have learned about multi-sensory systematic phonics instruction into all parts of literacy instruction.
Highlights include:
Lesson Planning for whole group and small group instruction
Video and live observations
Intervention Planning
More workshops
Additional workshops are being developed based on the feedback and needs of our teachers.
---
Practical Guidance
REAP recognizes that the learning does not stop once you're back in the classroom. Continuing professional development will solidify the knowledge you learn throughout the course.
Our practical guidance offerings are in the pilot stages and include (but are not limited to):
Modeling
Shoulder-to-Should coaching
Observations and Feedback
Mini learning sessions individually developed for the schools we are working with and their specific student needs
These offerings are geared toward schools that have at least 5 trained teachers. Each of these teachers must have at least 30 hours of multi-sensory, systematic, direct phonics instruction coursework. If comparable, the coursework does not need to come from REAP.
---
Model Classrooms
It's important for teachers to take the knowledge they gain in the coursework and connect it to real-life instruction; you need to see it in action in a live classroom. REAP is implementing 15 model classrooms across the metro area. Teachers who need to observe the modeling will schedule time in a Model Classroom where they will observe public school teachers who have been through REAP advanced training as they teach a lesson.
---
Ongoing Support and Sharing
Teachers who participate in our training program become part of a group that can share best practices with students and other teachers, and will be given opportunities for the next level of training when it becomes available.
Expert Instruction
Orton-Gillingham Academy Fellows provide REAP's OG teacher training. Our nationally recognized instructors include Rosalie Davis from The Schenck School, Jennings Miller, Norma Jean McHugh, and Joan Gerken from The Swift School. Our workshops and practical guidance offerings are lead by Literacy Leaders with a deep understanding of practicing multi-sensory, systematic, direct phonics instruction in the public school classroom.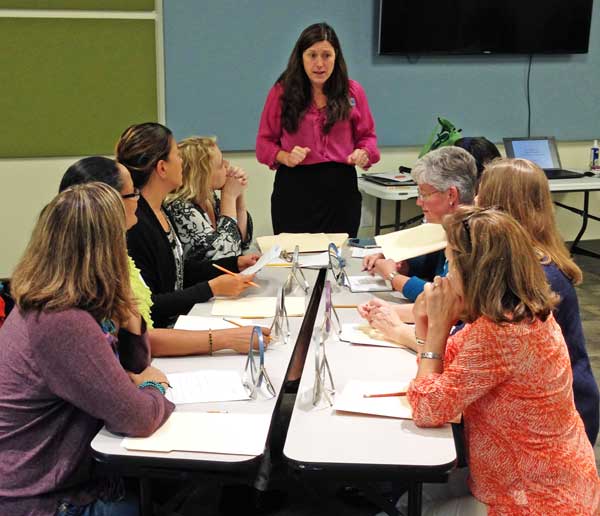 Course Offerings